"Lockdown has been like a question mark in the middle of a sentence. Unexpected, confusing and stressful", observes Yilu, 14, from London, in one of 200 thoughtful and powerful responses to lockdown and Covid19 from children aged 3 to 17, spanning the whole of United Kingdom and from as far afield as Australia.
In July this year, children were asked to contribute to a 'digital time capsule' to be included by the British Library in the UK Web Archive's Covid19 collection. The resulting group of stories, poems and artwork, is insightful and poignant, and whilst it reflects anxiety and, in some cases, profound sadness, it is also imbued with humour, imagination and enduring hope. Disruption to education, distancing from friends and family and uncertainty about the future, are themes which have been captured through the lenses and with the clarity of the voices of the children themselves, a generation whose lives have been affected by the pandemic in so many ways.
The 'Children of Lockdown' collection was initiated by Charlotte McMillan, mother of 3 boys and founder of Storychest, the private digital memory box app. Witnessing the impact of the upheaval of lockdown restrictions, she encouraged her own children to record their impressions of this unprecedented period of time.
Charlotte studied history at university and remembers the amazement she felt at exploring on microfiche newspaper articles stored by the British Library from a century ago to help her to understand how events were perceived contemporaneously. She wanted to enable today's children to record their thoughts and impressions in a lasting way, to help future generations to understand what they were going through. So, Charlotte, together with a group of 5 British children's authors put the word out to schools and other groups for children's submissions.
The children have captured enduring and iconic snapshots like the 'clap for carers', PE with Joe Wicks, the run on loo paper, empty streets and the emergence of nature, including goats taking over Llandudno.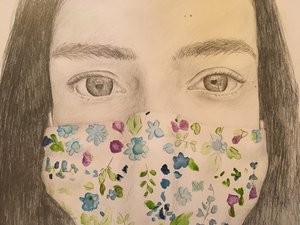 Maddy, 15, from London drew herself in monochrome, with the now all too familiar accessory of a mask, eyes peering knowingly at the viewer.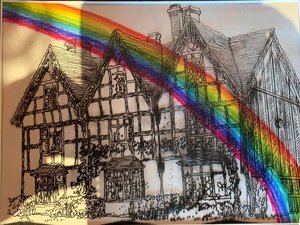 Tiggy, 10, from Kent felt trapped and isolated away from her friends, so drew herself behind prison bars in her own home, but added hope to her work by overlaying a rainbow in pastels.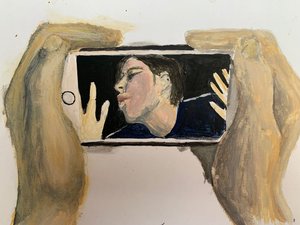 Charlotte's son Sholto, 14, pictured himself caught inside his phone, referencing the use of devices in lockdown as both a window to the outside world and a trap.
There are stories of imagination and escapism: Flora, 10, from Wallingford likened the virus to a wandering wolf 'pacing the fence line' outside her home; Joseph, 8, from Nottingham, missing playing football, invented games using Lego, "Harry Potter, racing through on his broomstick to smash it in the goal. Godzilla in goal, nobody could beat him".
Incredibly brave Emma, 11, from Derbyshire, was being treated for a brain tumour during lockdown. She reflected on happy moments sat on a best friend's drive for a chat and also describes sadness that her mum was not able to be with her, due to the restrictions, when she rang the hospital bell to mark the end of her treatment.
Siomha, 11, from London grieves for the death of a beloved great uncle, who had been known as the 'baby whisperer' for his calming effect on her as a baby: "Where is my baby whisperer? This time he cannot stop the tears, because this time I weep for him."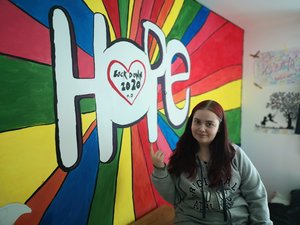 And yet, through it all, there is hope. Maddy, 15, from Exeter, creates a lockdown mural in her bedroom to show hope for her family and friends. Saanvi, 11, from Leamington Spa, remembering Dumbledore's words "Happiness can be found even in the darkest of times, if one only remembers to turn on the light", reflects that "mankind will get through any crisis and discover positivity even where it seems impossible to find".
Kenzi, 12, from Chesterfield who is autistic and found lockdown to be a particularly anxious time, sums it up beautifully, in his poem 'Life in Lockdown':
When normality returns
2020 will be remembered
In our broken battered hearts
As the time the world finally united
By staying apart
The Children of Lockdown collection can be viewed in full at https://childrenoflockdown.storychest.com/